NJGA Membership
NJGA MEMBERSHIP: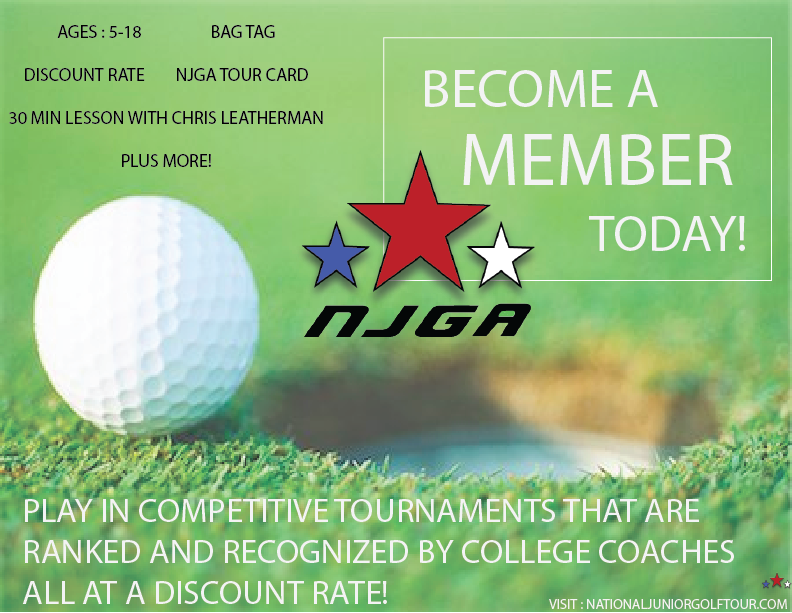 The National Junior Golf Association (NJGA) has been in operation since 1999, providing affordable and competitive junior golf tournaments. Our tournament area covers many parts of the South Eastern United States. By becoming a member you will receive benefits that will better suit your junior golf career (benefits are stated below). Our tournaments offer a variety of special things that help juniors golf game to improve, even under tournament pressure. All of our tournaments will be ranked by some of the top point systems in the United States. A lot of junior golfers want to take their game to the next level and becoming a college golfer is difficult but by playing with the NJGA, the opportunities are endless.
NJGA Guarantees:
Strong competition
USGA Rule Officials at each tournament
Premier golf course venues
Tournament play year round
Qualified tour staff
Parent/Child events
Qualifying events for the Optimist International and IMG Callaway Qualifier

Membership Benefits:
A player is Eligible for all Tour Events (except for the National Championship - Invitation Only)
Player's Discount On all NJGA Tournaments
NJGA Player Tour Card
NJGA Bag Tag
Preferred Tee Times
Discount on Range Balls at Leathermans Golf Learning Facility
Excellent College Golf Advice
First Time Members:
Free 30 Min. Swing Lesson with Leathermans Golf Learning Facility located in Charlotte, NC.
Free 30 Min. Putting Lesson with Allan Burton @ Lake Hickory Country Club
Free 30 Min. Session with Nicholas Jacob at Monroe CC (PGA Master Professional)
Membership Price: $75.00
You must create a FREE profile before purchasing our Membership Package. Click Here to create your FREE profile.
If you are not a member, there will be no discount added to tournaments and will be a non-member price.